Simultaneous generation of economic, societal, and environmental value is essential for the MC Group's growth. From this perspective, in 2016 MC identified a set of Key Sustainability Issues (Materiality) as mileposts for proactively realizing the simultaneous generation of triple-value growth (including in financial terms) for the MC Group.
We believe that our measures to address the Key Sustainability Issues will also help to achieve the Sustainable Development Goals (SDGs)* related to each key issue. MC recognizes the role that companies are expected to play in order to achieve the SDGs. With this in mind, MC will make every effort to help make progress on the Goals.
* The SDGs are a set of 17 global goals adopted at the UN summit held in September 2015 as the core of "The 2030 Agenda for Sustainable Development."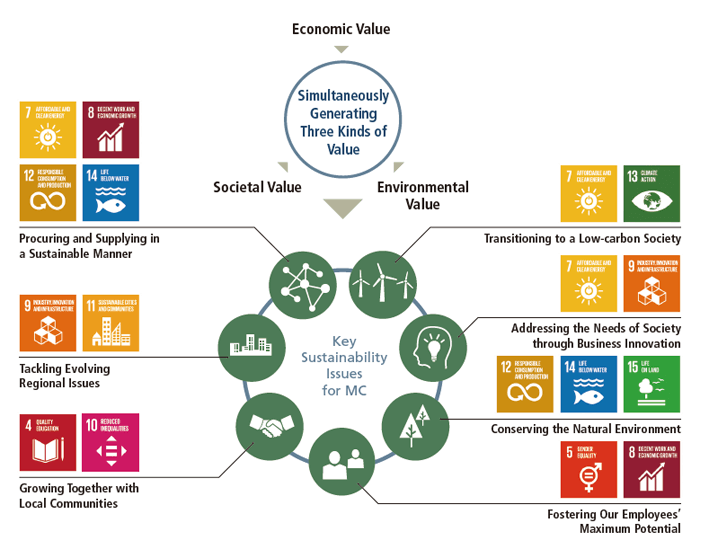 Past Initiatives to Address MC's Key Sustainability Issues
Since 2016, we have been strengthening our initiatives, and in 2020, we conducted a review of the goals set the previous year around the Key Sustainability Issues.
While monitoring the status of our initiatives in relation to these goals, we will further ensure the realization of triple-value growth.
1st Period:
Identification of Management Issues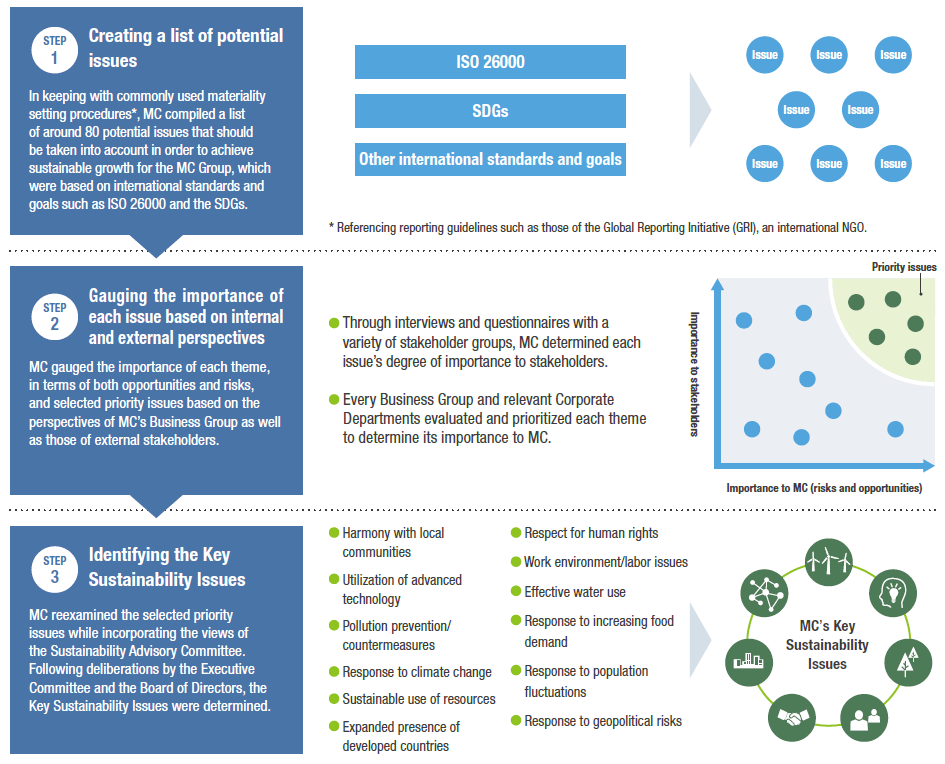 2nd Period:Incorporation into Business Strategy
Holding of Sustainability Dialogues and Sustainability & CSR Committee Meetings
In the fiscal year ended March 31, 2018, MC held Sustainability Dialogues followed by regular meetings of the Sustainability & CSR Committee, with the purpose of incorporating the seven Key Sustainability Issues (formulated in the fiscal year ended March 31, 2017) into its business strategy. Participants discuss changes in the external environment surrounding each issue and examine how value creation by each business contributes to the growth of the MC Group overall. Additionally, ideas are exchanged on how to drive initiatives at the front lines of our business.
3rd Period:Strengthening Initiatives Through Goal Setting
Setting Goals for 2030
In the year ended March 31, 2020, MC formulated individual business goals so that each Business Group could autonomously promote initiatives around the Key Sustainability Issues. In the year ended March 31, 2021, MC reviewed these individual business goals to make them more specific and quantifiable, taking into account the external environment and societal demands. The goals following the review and the main initiatives associated with them are as follows:
Aim to double renewable power generation capacity by the fiscal year ending March 2031 compared to the fiscal year ended March 2020 (from 3.3 GW to 6.6 GW).
(In addition, aim to reduce existing thermal power capacity and switch to zero-emission thermal power, targeting 100% non-fossil by 2050.)
Establish ammonia fuel supply chains for power generation.
Promote the commercialization of CCUS and hydrogen-related projects.
Promote initiatives around electric vessels (reducing environmental impact)
Reduce food waste by 50% (compared to the fiscal year ended March 2019)
Develop the recycled PET and eco-friendly material manufacturing businesses to achieve low-carbon and circular plastics
Advance coal/oil to gas projects as a pragmatic solution to reduce air pollution and transition to a low-carbon society.
Promote initiatives around autonomous ships (Reducing crew stress and maritime accident)
Develop the Mobility Services Business
Realize and manage valuable integrated urban development projects with accessibility and environmental friendliness
MC will continue striving for sustainable growth from a long-term perspective.